About
Mind Modulation for Good and Evil
Paranormal * Altered States * Espionage * SpyFi * Digital Drugs * PsiSpy * Occulture * Subliminazis * Neurothelogy * Neurohacking * Psi Wars * Mind Control * EMF * Psychotronics * Manipulation * Countermeasures * Persuasion * Personality Cults * PsiFi * Disinformation * UFOs * PSY-STRAT * Wizards, Spooks & Psiwarriors * Mind Reading * Spiritual Warfare * Thought Injection * Invisible War * Soft Kill * Intelligence * Deep Politics * Collective Deceptions * Political Witchcraft * High Weirdness * Signs & Portents
Even those who are conditioned by ideology and amplified by technology can still think and act for themselves. Do an intervention on yourself! As an exercise, start with self talk, balancing each thought with its opposite. When your thoughts stop enjoy that gap in mental chatter as primordial awareness. Each moment is an opportunity to experience naked awareness rather than allowing mind to run rampant.

POSITIONING YOURSELF IN THE BATTLE FOR YOUR MIND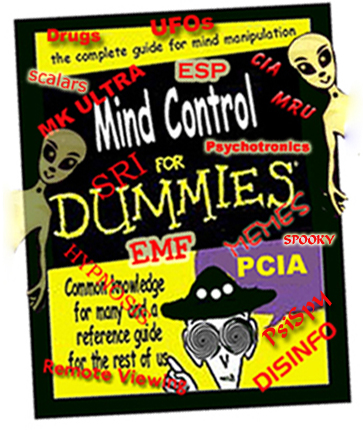 CONTENTS
PARAPSYCHOLOGY, PARAPHYSICS, PARANOIA, PSIONICS, PSYCHOTRONICS, PSYCHIC ESPIONAGE, PARANORMAL
Altered States * Espionage * SpyFi * Digital Drugs * PsiSpy * Occulture * Subliminazis * Neurothelogy * Neurohacking * Psi Wars * Mind Control * EMF * Psychotronics * Manipulation * Countermeasures * Persuasion * Personality Cults * PsiFi * UFOs * PSY-STRAT * Wizards, Spooks & Psiwarriors * Mind Reading * Spiritual Warfare * Thought Injection * Invisible War * Soft Kill * Intelligence * Political Witchcraft * High Weirdness
From ALPHA Brainwaves to Zener Cards ~ Everything you wanted to know about mind control but were afraid to ask.
MIND CONTROL FOR DUMMIES
THINGS ARE NOT WHAT THEY SEEM
Mind Control Vectors
Conventional Mind Control
Esoteric Mind Control
Psychological Countermeasures
Tavistock Invents Mind Control
Cultural Engineering Thinktanks
WHO DO THESE THINGS SERVE?
Cryptocracy
Paradigm Shift
Hidden Agendas - The Big Lie
Media & Paramedia Ecology
Ritual Murders
Autocratic Archetypes
Fairy Tales
Bliss Bunnies, Blue Hairs, WooWoos & OM-ers
Mind Blowing Counterculture
New Age Thought
UFOs and Mind Control
MIBS
HYP-GNOSIS
Parapsychology
Neurotheology
Neurohacking
Metaprogramming
Brain Drivers & Resonance
Schumann's Resonances
Electromagnetism & the Mind
HYPNOTORIOUS
Russian Psychotronics
Military Applications
US Psychotronics & Psiops
Media and Mass Mind Control
Electronic Warfare
Directed Energy Weapons
Psychopolitical Strategies
Knowledge Management (KM)
Perception Management (PM)
Semiotics
HAARP and Mind Control
Psionics, V2K, The Voice
Synthetic Telepathy
Divination
Psychotropic Drugs
Digital Drugs
Sensory Deprivation
Remote Controlled "Zombies"
Secret Societies
Occult ESPionage
Utopian Idealism & Progressiveness
Ceremonial Psychodrama
Signs, Symbols & Sigils
Control Your Energy Body
Energy Vampires
Victim/Victimizer
Malignant Narcissists
Depressive Energy Rip Offs
Stress Management
Observer Self
Mind vs. Naked Awareness
Meditation & Healing
Self Hypnosis & Higher Self
Trances People Live
Victimization
Symptomatology
Targeted Individuals (TIs)
Psychic Self Defense


Deconditioning Consciousness
Waking Up!
Alpha to Zitterbewegung
Contact Iona Miller
Ionatopia 2007